The share price is heading toward weekly lows. The CHF 2 per share level has not been maintained;
According to Morningstar, the bank has recorded net outflows of more than $200 million from US and European funds under management since March 13;
The market fears that liquidity from the SNB will be insufficient. The Saudis will not provide liquidity for regulatory reasons;
U.S. investors, through Rosen Law, have launched a class action lawsuit against the bank.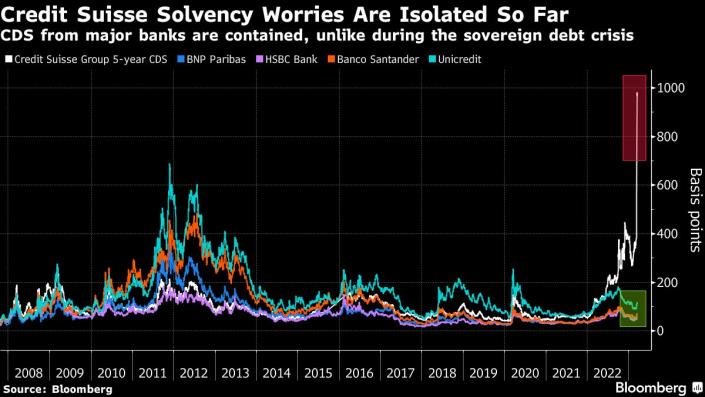 The 5-year credit default swaps show that other than Credit Suisse, the market sees no significant risk of collapse of other large European banks. Source: Bloomberg
The bank is undergoing a massive strategic restructuring to restore stability and profitability after a series of losses but the market currently has no confidence in its ultimate success. 
The Swiss central bank has mobilized CHF 50 billion in funding lines for Credit Suisse, of which the bank has already drawn CHF 39 billion - roughly how much of a liquidity deficit it could run;
CS, however, cannot count on help from its main shareholders, Saudi National Bank, which holds 9.9% of the bank's shares and cannot increase its stake above 10%;
It is unclear whether the SNB will opt for a possible further bailout of the bank's financial situation, a higher amount in the face of potential political opposition. Switzerland's popular right-wing Swiss People Party has voiced criticism of the SNB's decision of the bank;
Significant measures by the SNB may not be enough for customers to regain trust and want to use its services again. According to Syz Bank's comments, a full SNB guarantee on all deposits and a capital injection giving the bank more time to restructure could help.
Rosen Law Firm, a law firm specializing in class action lawsuits, has filed a complaint in a New Jersey court on behalf of U.S. investors. The firm claims that Credit Suisse made "false and misleading statements" in its annual reports.
Last week, Credit Suisse admitted that it had "material weaknesses" in its reporting and control procedures but that these did not affect its financial data. The bank published a delayed annual report for 2022. Rosen Law says this may have caused "irregularities" in results and misled its shareholders.
Credit Suisse shares, M5 interval. The price reaction indicates that the market hasn't quite 'bought the positive scenario' after the liquidity injection from the SNB. The stock is losing nearly 10%. Source: xStaiton5