Cryptocurrency company Ripple, which has been in litigation with the SEC for more than 2 years, is gaining almost 20% today. The reasons for the increases are new documents being prepared by lawyers for the Brad Garlinghouse-owned fintech and the judge's position on Binance's acquisition of Voyager. The market saw a higher chance of winning against the SEC. Such a situation would send a positive signal to the crypto market as a whole and reduce the stress associated with the actions of US market regulators.
Ripple and Stellar are the strongest gaining crypto projects today. Source: xStation5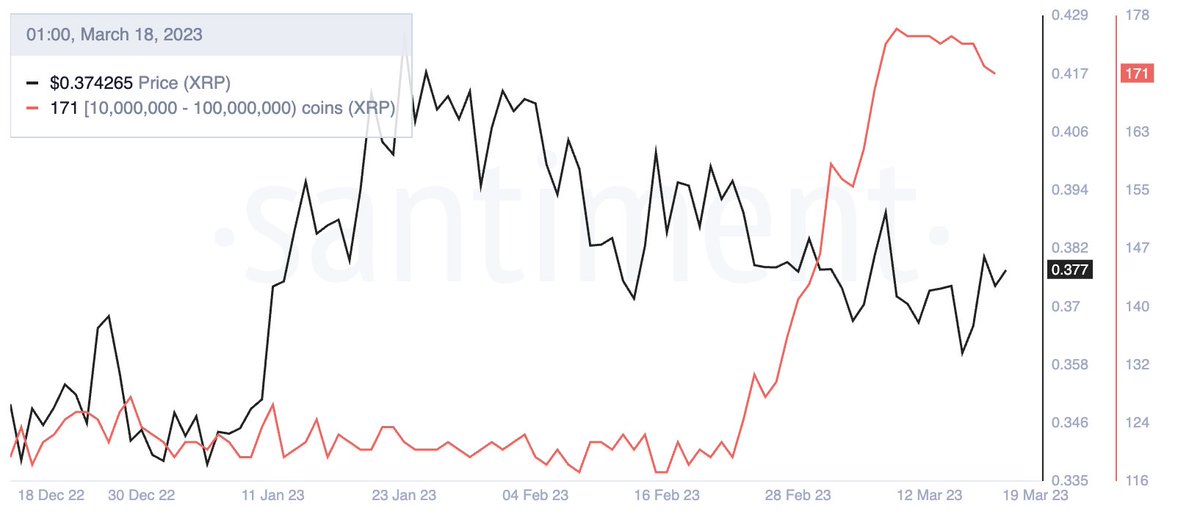 The number and holdings of portfolios of the largest investors in Ripple have increased recently. In total, they have accumulated more than 400 million tokens. Accumulation clearly accelerated with the beginning of March. Source: SantimentData
The Securities and Exchange Commission (SEC), chaired by Gary Gensler, accuses Ripple of failing to report the sale of its tokens to the SEC. Following this lead, the sale of XRP, which the SEC considers to be securities, took place illegally; 
A U.S. judge responding to the SEC's charges against Binance US conveyed that he was unable to stop Binance's acquisition of the Voyager fund even though the SEC believed the fund held securities and the transaction should not have occurred;
The reason for the judge's dismissal was the unclear regulations of the crypto industry and the conflict of US regulators (SEC and CFTC), who among themselves cannot agree on which cryptocurrencies are and which are not 'securities' or 'commodities';
Ripple's attorney conveyed that the company will release the private correspondences of the former SEC member, whose emails represented a different position from the official one. Ripple expects the first court decision in Q2 2023. A win against the SEC would be a positive event for the crypto market.
The price of Ripple on the H4 interval has broken out of consolidation and is heading towards pre-FTX collapse levels, around $0.5 per token. However, the RSI indicator indicates a level of near extreme overbought. Source: xStation5